I'm very pleased to announce…  BIKE TALL t-shirts are now available for purchase at BIKEASAURUS and PEDAL BIKE TOURS!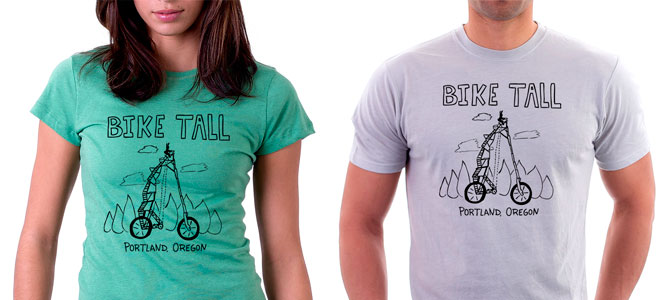 Several things inspired the BIKE TALL t-shirt…
Over the past decade, I have found a great sense of community in the Portland bike scene.  Through my bike adventures I have made many friends and found a greater connection to Portland.  This has made my life awesome.
I believe one of the most enduring icons of the Portland bike scene is the tall bike.   I don't personally own a tall bike, but deep down I truly respect those that do and ride them with pride.  I think they should be celebrated.
Rabbits.  I love cute creatures and I especially love rabbits.  They are a running theme in my artwork.  When I made the original sketch for this, I asked myself, "Wouldn't it be great to see a rabbit on a gigantic tall-bike?"  "Yes," I answered.
Go get yours!
I'm excited these are available.  I'm proud of the quality and the cuteness.  I'm proud to be a Portlander and live in a city cute things on bikes are always appreciated!
You can find the BIKE TALL t-shirts at these fine Portland establishments:
BIKEASAURUS
1725 SE Hawthorne Blvd
Portland, OR 97214
PEDAL BIKE TOURS
133 SW 2nd Ave
Portland, OR 97204
PS.
Christmas is coming!